Fitness trackers are becoming essential for a lot of us. They have been incorporated into our lives in an irreplaceable way. Ever since the release of the first fitness tracker in 2009, the trackers are getting more and more popular.
They are the best devices to motivate you to get fit and track your progress.
In this article, we will talk to you about the best fitness trackers for women and review each of them. So, without any further ado, let's jump into it.
List of The Best Fitness Trackers for Women:
Fitbit Inspire HR – Best Overall
Apple Watch Series 5 – Best High-Quality Fitness Tracker
Garmin Vivoactive 3 – Best Value Fitness Tracker
LETSCOM Fitness Tracker HR – Best Budget Fitness Tracker
Fitbit Versa 2 – Best Fitness Tracker Under $200
Our Top Picks:
| | | | |
| --- | --- | --- | --- |
| Tracker | Display Type | Battery Life | GPS |
| Fitbit Inspire HR | OLED | About 5 days | No |
| Apple Watch Series 5 | OLED | 15 to 16 hours | yes |
| Garmin Vivoactive 3 | LCD | About 6 days | No |
| LETSCOM Fitness Tracker HR | OLED | 5 to 10 days | Yes |
| Fitbit Versa 2 | AMOLED | More than 4 days | No |
The 5 Best Fitness Trackers for Women in 2021
1. Fitbit Inspire HR – Best Overall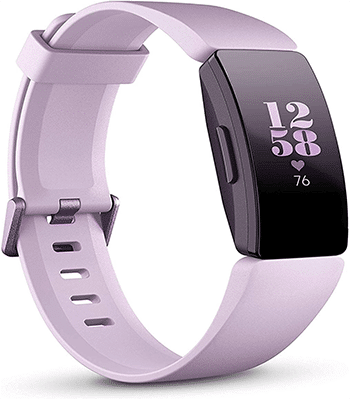 Fitbit was the first to make a fitness tracker. Since that time, it has been hard for other competitors to beat the quality of Fitbit trackers. This model is the latest addition to the company with the best performance.
One of the reasons why this watch is a perfect choice for any woman is the sleek look of the showcases. It is comfortable to wear with curved edges that give it an iconic look and a modern feel.
The tracker has a black and white OLED display with a touchscreen interface. Additionally, the band has a lightweight so you can wear it for prolonged periods without having any issues.
The band comes in a plastic casing with two replaceable straps that are designed to fit different wrist sizes. These straps are usually made of silicone, yet, they can be replaced with saffiano leather or metal mesh bracelets to match your general taste or your workout gear.
Moreover, there is a wake-up button on the right side of the band. This button allows you to move back out of menus and to pause or stop an exercise as well. This makes the tracker more convenient to use because swiping through the touchscreen can be a little tricky when you have sweaty fingers.
One thing that we'd like to point out is that the tracker has a smaller display than its Charge 3 model. This allows you to use one stat at a time. Text messages and incoming notifications are displayed in a smaller font.
The face of the band shows a clock face that serves as the central hub from which you can swipe up or down to get to different applications. These applications include an exercise app, an alarm clock, a timer, and the settings of the band.
When it comes to the exercise app, the Fitbit Inspire HR allows you to track your performance over 15 different activities. Walking. Running, aerobic workout, swimming, elliptical, outdoor biking, and other sports.
Additionally, you can track your sleep and heart rate, the burned calories, and the different stages of your sleep. You can also use it to get your phone call alerts, emails, and texts. Other notifications from various apps could be received on the band; you can adjust the band and control the type of notifications you would like to receive and which applications can send you notifications over the band.
Fitbit Inspire HR has an average battery life of 5 days. This is quite good considering that it is an affordable women fitness tracker. It is compatible with Androids and IOS phones.
Pros
Attractive look with swappable straps
Lightweight and not bulky
User-friendly interface
Battery life about five days
Can display different notifications
Waterproof and can be used for up to 50 meters underwater
Cons
No GPS based activity tracking
Final Verdict
Fitbit Inspire HR is the best fitness activity tracker for women. It is easy to use, affordable and looks great on a women's wrist. Not to mention, it is accurate, and it gets the job done.
Read Also: The 5 Best Fitness Trackers for Kids 2021
2. Apple Watch Series 5 – Best High-Quality Fitness Tracker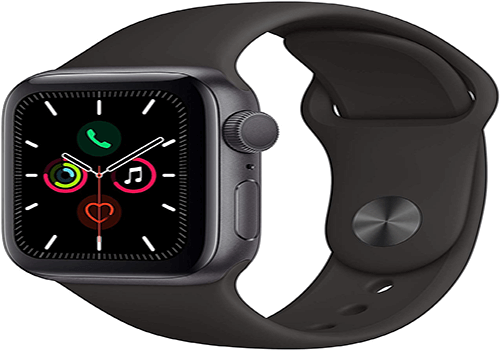 Everyone knows that Apple products are ahead of other companies, especially when it comes to smartwatches. The Apple watch series 5 stands out, being the best current smartwatch on the market.
What makes this an excellent option for women is that you can use it to track your period cycles. Also, the watch offers some feminine strap colors that a lot of women find appealing. It has an elegant design that looks fancy on the wrist.
Apple watches have the best processors, and as you might have heard, this model comes with an always-on display option. The watch offers more storage than any other smartwatch on the list.
One thing that is worth mentioning is that the watch features a built-in compass app that allows you to use different map applications. You can track over 12 activities using the Apple Watch Series 5, including walking, running, cycling, yoga, swimming, and others.
The only concern when using the watch is battery life. Not only is it shorter than most of the fitness trackers, but also, it is shorter than the Apple Watches Series 3 and 4. It can last for a maximum of 15 to 16 hours when fully charged.
On the bright side, the watch features cellular connectivity, which makes it the best on our list. Other features like wireless charging mode and GPS are available on the watch.
Besides, it is water-resistant, so you can take it with you to the shower. However, a lot of people don't prefer taking the watch with them into the shower as a precaution since the watch is very expensive.
Pros
Attractive design
Always-on display feature
Offers more storage than other models
Built-in compass
Cons
Battery life is about 16 hours
Expensive
Final Verdict
Apple is known for its high-quality products, and the Apple Watch Series 5 is no different.
It looks fancy with amazing features that make it the best, high-quality fitness tracker for women.
3. Garmin Vivoactive 3 – Best Value Fitness Tracker for Women

Garmin Vivoactive is one of the amazing fitness watches for women that you won't feel like taking it off your wrist. It is the closed rival to the apple watch, and the brand is known to be one of the greatest when it comes to GPS based tracking products.
The reason we think this a great smartwatch for women is that it fits smoothly on the wrist and looks stylish.
The watch is made of a black polycarbonate body with a stainless steel bezel. It comes with a premium quality strap that can be adjusted to fit different sizes of wrists.
One of the advantages of buying the Garmin Vivoactive is that you can replace the strap with any regular watch strap that you like. This gives you more choices than what you get with other smartwatches.
When it comes to performance, the watch is one of the best activity trackers for women; it has all the sensors that you might want for any fitness activity. Besides., you can take it into the shower and wear it in the pool.
The watch has an LCD touchscreen that lights up upon raising the wrist. The screen has a colored display, and there is a touch-sensitive panel on the right side that you can use to scroll through the different menus on the screen.
There is a heart rate sensor at the rear of the watch, whereas the other sensors, including the compass, barometric altimeter, the accelerometer, and thermometer, together with the built-in GPS, are positioned throughout the watch.
Another thing that makes the watch stand out between other fitness trackers is that it has canned responses that will come in handy in different situations. For example, you can choose to reply to someone with "sorry, can't talk right now."
The battery life battery of the watch varies depending on whether you have the GPS feature turned off or not. It can last for up to 6 days if the GPS is turned off.
It can precisely monitor your heart-rate and report the overall cardiovascular level of fitness.
Pros
Impressive battery life
Can send canned responses
Accurate HR monitoring
Can use it for up to 5ATM underwater
Final Verdict
Vivoactive 3 is an excellent fitness tracker for women. You can wear it anywhere, going about your daily activities. It has the best value for your money, and it looks fancy.
See also: Best Smartwatches for Women in 2021
4. LETSCOM Fitness Tracker HR – Best Budget Fitness Tracker

Letscom HR makes an impressive fitness tracker. It has a simple design with an OLED display and soft TPU straps. You can choose the color of the straps while ordering the band. Eight colors are available, including red, green, and pink. This is why we think the band is suitable for women.
Unfortunately, the bands aren't swappable, so once you choose a color, you will keep it for as long as you are using the band.
The band can track over 14 activities, including running, riding, hiking, and others. Also, you can connect the band to the GPS on your smartphone to trace the route you took during the workout.
The band can track your sleep and give you sufficient information about the quality of sleep that you can use to make all the necessary adjustments to have a healthier lifestyle. It has one of the class-leading heart rate monitors that will let you know your average heart rate, your resting, and maximum heart rates as well.
One of the features you will love about the Letscom band is that it nudges you whenever you stay in the same position for too long to motivate you to move more.
Furthermore, the band can show you several notifications from your phone, including texts, calls, and social application notifications like Facebook, Twitter, and WhatsApp.
If you charge the battery fully, it can last for 5 to 10 days until you need to recharge it. Letscom HR is waterproof enough for you to keep wearing it while you are washing your hands or to withstand water splashes. However, you can't use it in the shower, and you will have to take it off before going into the pool.
It can connect to both Android and IOS, and you can simply charge the band by connecting it to your computer using a USB port.
Pros
Can track over 14 activities
Available in 8 different colors
Has a battery life of five to ten days
Compatible with Android devices and IOS
Motivate you not to stay in your place for too long
Cons
Non-swappable bands
Can't use it while in the pool or the shower
Final Verdict
Letscom HR is an admirable budget fitness tracker that makes an excellent choice for anyone who is looking to get a band to motivate them to do more exercises and follow a healthier lifestyle without breaking a bank.
5. Fitbit Versa Best Fitness Tracker – Best Fitness Tracker Under $200

We already talked about Fitbit and how their fitness trackers are top-notch. The Versa model has a lot in common with our number one pick, the Inspire HR, although, they do have their differences.
The Fitbit Versa is incredibly light and looks stylish. It comes in different women-friendly colors, which is why we think it is suitable for any woman. You will be glad to know that you can swap the straps between any of the Fitbit models, and it will fit.
What makes this model different from the one mentioned above is that unlike the Fitbit Inspire HR, the Fitbit Versa can track floors climbed, display workouts on-screen, and provide canned replies. Additionally, the model can get over everything that the Inspire HR offers except for the GPS pace and distance and the Adidas onscreen workout.
The watch offers some female-friendly features, and there are three buttons, two of which are shortcut keys that allow you to have easy access to the features of the device. It can track your HR and sleeping patterns. Also, it offers more than 15 exercise modes with water resistance for up to 50 meters.
The battery life of the Fitbit Versa is usually more than four days. You can get call notifications, texts, emails, and different applications. Besides, you can log your periods, which can be added to the reasons why this is a perfect fitness tracker for women.
Pros
Monitors heart rate and sleep stages
Can be used with Androids and IOS
Offers more than 15 exercise modes
Can dive for up to 50 meters underwater
Final Verdict
Fitbit Versa is a convenient and affordable fitness tracker that comes in female-friendly colors. It offers some women-friendly applications as well.
Read also: The 5 Best Fitbit for Women in 2021
How to Pick a Fitness Tracker for Women
Buying a good fitness tracker for women can be a bit tricky. There are a lot of options available with a wide range of features. It is important to consider all the features that the fitness tracker you have your eyes on has. Also, it is better to first think about the features you need. This way, you won't be paying a high price for a feature that you won't use.
With that being said, let's see some of the essential factors that you should consider before buying a fitness tracker.
1. Types of Activity It Can Track
It goes without saying that the more features a fitness tracker has, the more you will be paying for it. Someone who needs a band to track their morning walks doesn't need a fancy fitness tracker that lies on the high end of tracking features.
2. Battery Life
The battery life for a smartwatch determines how often you will need to recharge it. A fitness tracker that has a longer battery life is more convenient to use. Some smartwatches – like the Apple Watch Series 5 – can offer you great features; however, it has a poor battery life that won't last throughout the day.
On the other hand, you can find fitness trackers that stay for up to 25 days without the need to recharge the battery. These trackers don't have as many features as the Apple watch, of course.
3. Size and Color
It is crucial to get a tracker that fits your wrist size, and you can wear comfortably. This ensures that the readings of the tracker are correct, especially the heart rate.
4. Water Resistance
Most of the recent fitness trackers have enough water resistance to resist water splashed and allow you to wear them while washing your hands. However, if you want a tracker that can track your swimming activities and you can take with you into the shower, then you should get a fitness tracker of at least 3 to 5 ATM.
5. Platform
Some fitness trackers can be fully used only when connected with certain platforms. Usually, you download an app on your smartphone, which then pairs the tracker with your phone.
The good thing is, most fitness trackers are compatible with both Androids and IOS. However, some aren't, so you need to check the compatibility of the fitness tracker you have your eyes on with your smartphone or tablet.
Final Thoughts
Choosing a good fitness tracker becomes an easy task once you figure out what to look for. The Apple Watch Series 5 has the best quality, although it is a little too expensive for a lot of people.
If you can't afford an Apple Watch, then Fitbit Inspire HR is the next best option. Actually, it is a great option that has a reasonable price considering its capabilities.
Garmin Vivoactive is a great value for your money and is worth more than its actual price. On the other hand, Fitbit Versa 2 is a good and affordable option, whereas LETSCOM Fitness Tracker is the option to resort to if you are on a very tight budget, but you still need something to motivate you to work out.
All in all, the best fitness tracker for women can't be just one option; you will have the tracker that is perfect for you!